Your package to get the most out of your day at Xcaret ecological park.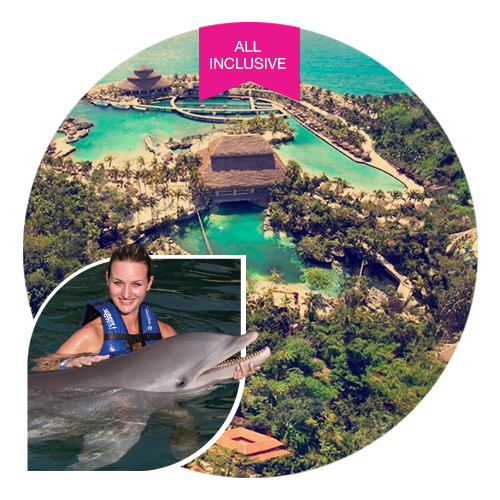 What does this package for Xcaret Park include?
Free transportation to and from your hotel*
Swim with dolphins Splash
Snorkel
Food and beverages (1 Buffet)
Lockers and restrooms (towels not included)
Full-day access to Xcaret park:

Opening times: 8:30 am to 9:30 pm.
Access to all the facilities.
Shows, exhibitions and cultural tours.
Water activities in underground rivers.
Access to the beach, cove and natural pools.
Show "Xcaret Mexico Espectacular".
 

IMPORTANT
Free transportation: pick up in the lobby of your hotel, applies only to hotels that allow access to cars, if not, pick up will be at the meeting point closest to your hotel.
These packages must be booked at least 3 days prior to your visit to the park.
The schedule for your swim with dolphins will be given to you upon arrival at the park.
Children's admission:

Adult's rate: adults and children over the age of 11.
Children's rate: children between 5 and 11 years old who measure less than 1.40 mts. (5.4 feet).
Free entrance and transportation: babies and children under the age of 5.
• Children under the age of 5 who will be swimming with dolphins must pay the dolphin swim fee and must measure at least 1 meter.

For the safety of the swimmers, dolphins and trainers, participants are asked not to bring video or photography cameras to the wet areas around the dolphinariums.
Visitors accompanying a child are not allowed access to the dolphinariums.
This offer is sold as a package. All park activities and interactions with dolphins must be used on the same day.
Friends and family members who will not be participating in the dolphin swim will need to pay for transportation and the entrance fee to Xel-ha park. The package for non-participating friends and family members includes: access to Xel-Há park, food and beverages, access to over 20 activities inside the park and transportation to and from the hotel.
Additional information